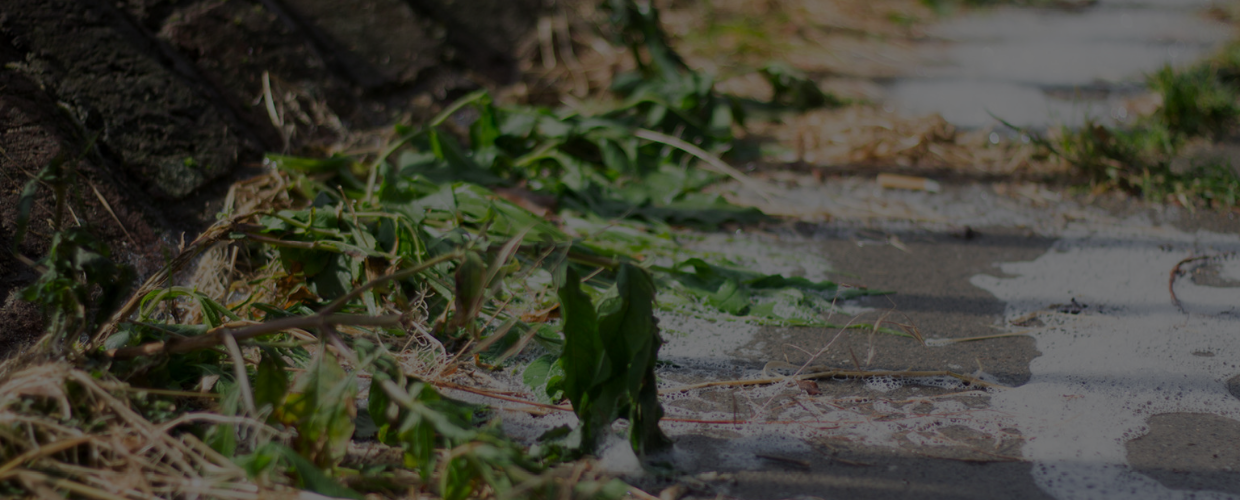 The leading glyphosate-free solution for weed control
Why Foamstream?
Foamstream is ideal for any contractor, council or organisation looking to reduce, if not remove, the use of herbicides. It's uses are not limited to weed control; Foamstream is also suitable for outdoor cleaning tasks including chewing gum removal, power washing and general sanitisation jobs.
The foam itself is 100% environmentally friendly and biodegradable, made from natural plant oils and sugar. It is applied via hose and a hand held lance from a vehicle mounted power unit; M600 or M1200.
The active ingredient in the process is the heat in the hot water. The foam simply acts as an insulating blanket over the top of the hot water, ensuring heat is not lost to the atmosphere.
Using WeedingTech's industry-leading machinery, Foamstream is applied to vegetation at low pressure and can be used in all weathers. Once it hits the vegetation and covers it, the foam creates a thermal blanket over the vegetation and the water. For more information, click on the button below to download the WeedingTech brochure.
What is the relationship between Furlong Equipment and Foamstream?
As Foamstream Ireland, this division of Furlong Equipment is the main importer and distributor of Foamstream and WeedingTech application systems in Ireland. If you are outside of Ireland, click here to access a list of other distributors.
What are the key Foamstream benefits?
Can be used on and around water courses.
Minimal protective clothing is needed.
Instant visible results therefore reducing management time.
What is Foamstream made from?
The crucial part of the patented Foamstream process is the biodegradable foams. These are made from natural plant oils and sugars. There are two foam blends available.
Foamstream V4 – The original foam blend made from a combination of ingredients including wheat, maize, coconut oil, rapeseed oil and potatoes.
Foamstream plus – Olive oil based foam blend.
What scientific studies have been done to confirm Foamstream's safety?
Foamstream has been cleared for use as organic, non-toxic, and safe by all of the relevant bodies in which it operates. This spans across the Americas, Europe, Australasia and New Zealand. See the list of organisations on the Weedingtech UK site here. 
How much does Foamstream cost?
Please contact us via our contact form below to discuss your requirements so that we can provide you with details of our pricing.
Can I just buy the foam?
No – the foam can only be applied using WeedingTech machinery.
Who is it suitable for?
Foamstream is ideal for any contractor, council or organisation looking to reduce the use of herbicides from their practices and replace it with the most cost-effective and efficient alternative. Sectors currently using the Foamstream system worldwide include; 
Has it been used in Ireland?
Foamstream has already had some notable results in Ireland. In October 2018, Dún Laoghaire Rathdown County Council used the system in the RHSI Garden School in Marlay Park.
How much training is needed to use Foamstream?
Foamstream is simple and easy to use – no certification is required.
Training is provided and there are a large number of guides and videos available.
Are the machines available for hire?
Yes – as well as being available to buy, machines will also be available for contractors, councils or other organisations to hire.
How many treatment cycles does it need?
Check out the image below for Foamstream's annual treatment cycles compared with other alternative solutions. Foamstream requires fewer treatment cycles than any other herbicide-free solution. Its treatment cycles are even comparable to those of glyphosate.
Get In Touch With Us Today
Want to start using Foamstream for your organisation? Fill out the contact form and we will be in touch as soon as possible.